Why Summer 2023 is the Best Time Ever to Visit Lake Tahoe
Lake Tahoe's Huge Winter and Abundant Crystal-Clear Water Make Summer 2023 the Perfect Time to Visit
If you've been thinking about visiting Lake Tahoe, this is your heads up that summer 2023 is unique, with conditions that may not happen again for another 50 years. Summers at Lake Tahoe are always amazing, but 2023 promises something extra special: the clearest water since the 1980s.
Read on to learn about why Lake Tahoe's water is so clear this year, and to find out the best things to do when you get here.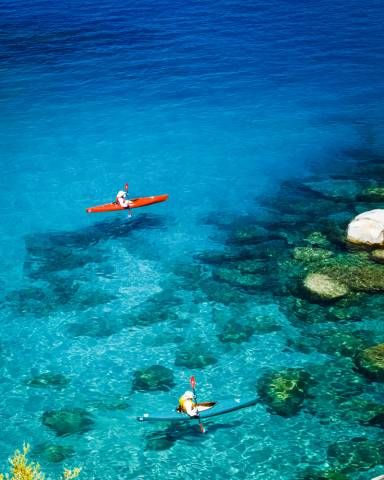 What's special about Lake Tahoe's incredible clarity this year, 2023?
Lake Tahoe, the Jewel of the Sierra, is renowned for it's water clarity. But what about the lake makes conditions so clear? According to Geoffrey Schladow, Director of the UC Davis Tahoe Environmental Research Center, the biggest factor comes from the smallest source: microscopic zooplankton.
In a recent interview with NPR's Ayesha Rascoe, Schladow explained that one of Lake Tahoe's native zooplankton, Daphnia, have seen an uptick in population due to a decline in population of an invasive shrimp species that predates them. Since the Daphnia are back on the rise, they are able to consume more of the fine particles and smaller phytoplankton that disrupt Tahoe's water clarity.
"So essentially, they're little Roombas cleaning up the lake," said Schladow.
So is the new clarity of the lake permanent?
Unfortunately, the recent uptick in the native zooplankton to Lake Tahoe won't last forever. Just as the Daphnia went away and returned, so will the invasive shrimp species that feeds on them. In the NPR interview, Schladow notes that this moment of clarity may last for only a couple years before the shrimp return.
Basically, if you want to experience Lake Tahoe at unprecedented levels of clarity, then this summer is the time to do it. Delaying any longer, even by a year, may mean that you miss your chance to see the lake in these extraordinary conditions.
Not that Lake Tahoe has ever been anything short of exceptional. Right now it's just exceptionally exceptional.
Okay, I'm coming to Tahoe! Where should I stay, and what should I do?
Fantastic! We know you're going to love visiting the lake, the towns along it, and the wilderness surrounding it. The first thing to do is to get your accommodations reserved now before they fill up.
RnR Vacation Rentals has the best catalog of luxury rental homes in all of South Lake Tahoe. You can browse our list of homes by the length of your stay - short term or extended - as well as by amenities and group size. You can also click the link below to look through the complete catalog of available Tahoe vacation rentals.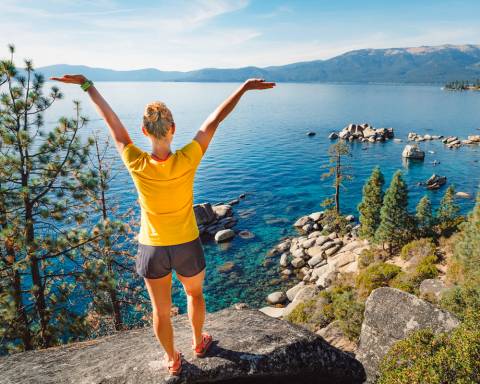 What Else Do I Need to Know About Taking a Summer Vacation in South Lake Tahoe this Year?
South Lake Tahoe is so much more than just a tucked away resort community by a pretty lake. All around there are hiking and biking trails, historic sites, state parks, and plenty of fine shopping and dining. There's so much to see and do, that you may be hard-pressed to narrow down your itinerary list.
Our second most recent blog post covers 30 things you can do in 30 days at South Lake Tahoe. Even if you're stay isn't that long, that post provides a great list of varied things to do for every visitor coming to Lake Tahoe in the sumer.
Outside of that article, there are several other posts on our Tahoe Blog which offer more detailed summer travel ideas. We also have a page on our area guide that's solely dedicated to the best local summer activities, and we have a dining page where you can find the best South Lake Tahoe restaurants for any meal of the day.
If all else fails and you still need more information after booking your trip, then feel free to Contact Us with any travel inspiration questions when submitting your reservation. We also have an RnR Email Newsletter you can sign up for to stay up-to-date on the latest news and deals available in South Lake Tahoe!