Summer Activities in South Lake Tahoe
Land Activities for Your South Lake Tahoe Summer Vacation
South Lake Tahoe is a wonderful place to be in the summer! Gorgeous views, pleasant weather, and a ton of exciting things to do. It's nothing short of a paradise for both thrill-seekers and travelers looking for the ultimate relaxation destination.
Read on to discover all the fun things to do in South Lake Tahoe on land in the summer. Be sure to check out our Water Activities page as well for even more exciting things to do in summer on the lake itself.
Summer Recreation Areas in South Lake Tahoe
The cornerstones of any great summer vacation are the fun-in-the-sun recreation areas you can visit. Here in South Lake Tahoe, we have a variety of excellent recreation areas where you can explore our enchanting landscape as well as bask in the warm California sun.
Around Lake Tahoe there are many fantastic beach stretches where you can play beach games, go for a swim, or lie down on a towel and get a tan. Beyond the beaches, South Lake Tahoe also hosts many fascinating historic and natural attractions that are a treat to visit with the family. And, surrounding nearly all of the lake, you'll find extensive state parks full of hiking and biking trails, scenic overlooks, and some of the freshest air to ever grace your lungs.
Click the links below to learn about each of these unique summer recreation areas in South Lake Tahoe.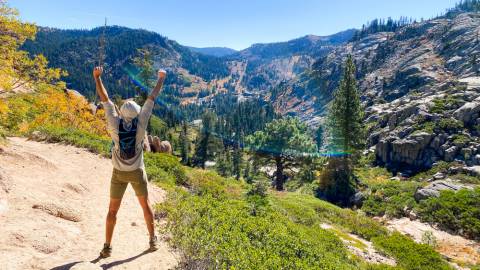 Popular Summer Activities in South Lake Tahoe
Hiking
South Lake Tahoe and hiking go together like peas and carrots! There are many fine hiking trails near town and in the local state parks. Most trails feature stunning views of Lake Tahoe, and some end with views of other scenic water features or cool landmarks. No matter your hiking experience, we all-but-guarantee that you can find a hiking trail in South Lake Tahoe that will fit your needs and provide excellent views!
Check out some of our Favorite South Lake Tahoe Hiking Trails.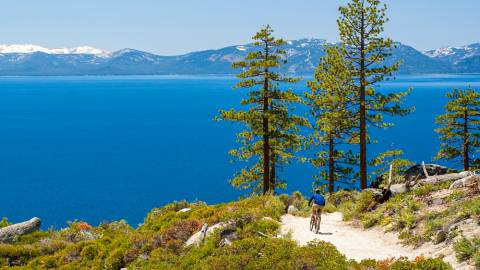 Mountain and Road Biking
Whether you're already into cycling or are looking to try it out for the first time, South Lake Tahoe is a great place to ride during the summer. Just as with hiking, the mountain biking trails around Lake Tahoe are exceptional. They provide both incredible scenery to pedal through and thrilling downhill sections that mountain biker's live to zoom across.
In addition to mountain biking, there are many great places to ride a road bike at South Lake Tahoe. Famiies visiting the area can have a great time cruising down designated bike paths and paved trails. As for those who like to go road biking for their morning exercise, you'll be hard-pressed to find a better view that cycling around our big and beautiful lake.
Click here to learn more about Biking in South Lake Tahoe.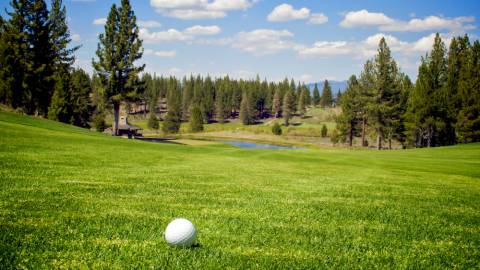 Golfing
There's nothing quite as satisfying as stepping up to the teebox on a picturesque golf course armed with a gargantuan driver ready to smack that little white dimpled golf ball off to kingdom come. Well, either that happens or you slice it straight into the woods, leading to an inevitable torrent of taunting and trash-talk from your fellow players.
Regardless of the quality of your game, rest assured that the golf courses near South Lake Tahoe are sublime. The Sierra Nevada and Lake Tahoe scenery make for an excellent golfing backdrop, and the courses here offer a great balance of fun and challenging features. You and your friends will have a ball taking a swing at the holes at each course.
Check out the Golf page at Tahoe South to check out the local courses.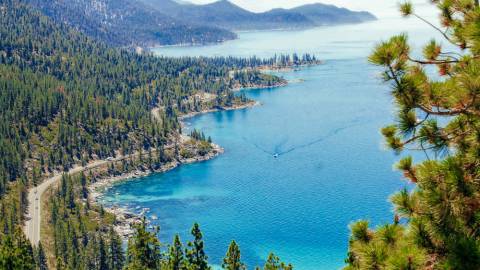 Scenic Drive
Another great way to spend a day at Lake Tahoe in the summer is to cruise in your car around the lake. Designated as one of the Federal Highway Administration's National Scenic Byways, the 72-mile route which circumnavigates Lake Tahoe is often called the "Most Beautiful Drive in America." You'll see exactly why that is about 5 minutes after hitting the road.
Along the way, there are plenty of places to stop and shoot photos, take a short hike, or just chill out to soak in that particular view a little longer. You can also check out the other towns, beaches and state parks dotted around the other sides of the lake.
Check out the route by visiting Tahoe South's Most Beautiful Drive page.
Head over to our Area Guide and Tahoe Blog to find more exiting things to do during your stay in South Lake Tahoe. Also, make sure you stay in the best accommodations by booking a vacation rental with RnR. Click the button below to view our Summer Monthly Rentals, or click here to browse our entire rental catalog.