30 Things to Do at South Lake Tahoe in 30 Days
Fill Up Your Extended Stay Itinerary in South Lake Tahoe with these Fun Activities
At RnR we offer an array of extended-stay options for guests reserving a home in South Lake Tahoe. Our portfolio includes many large properties where guests can enjoy their extended families, have friends join on weekends and immerse themselves in the amenities and technology of a well-equipped home away from home.
Maybe you're wondering: What would we do for 30 days in South Tahoe? Although the idea of filling up a month-long itinerary sounds daunting, trust us when we say it'll be no problem here in South Lake Tahoe! To lend some guidance and inspiration, we submit the following list of 30 ways to spend your days in this beautiful corner of the world: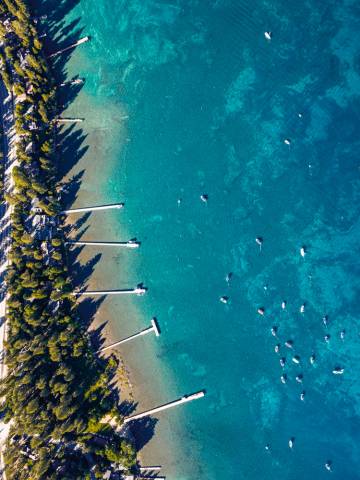 1) Spring Skiing
South Lake Tahoe boasts an epic spring ski season, this year projected into May. Thanks to an unprecedented snowpack, plan for an amazing experience at one or more of South Tahoe's big three resorts: Heavenly, Kirkwood and Sierra-at-Tahoe.
2) Stargaze
Up to 300 cloud-free nights per year and a lack of light pollution make Lake Tahoe a premium place to stargaze. You can even take a stargazing tour by kayak to get an unforgettable 360-degree view of the Milky Way over the lake.  
3) Ride the Gondola
You don't have to ski to ride the gondola at Heavenly Valley, where you can soar to the top of Tahoe's tallest mountain. Take in the stunning views, then hike, grab a beer or get lunch at the café up top. 
4) Create your Own Brew Pub Crawl
From local holes in the wall to elaborate beer gardens featuring live music, you'll never be far from a brew pub in South Tahoe. Some highlight local specialties, and others offer dozens of beers on tap. 
5) Get Some Action on the Lake
Grab an incomparable view from the unique vantage point of the lake itself on a kayak, paddleboard, boat, parasail or jet ski. You'll find calmest conditions at sunrise, and nearly every town in Tahoe rents all the equipment you'll need. 
6) Hike to the Moon
Tahoe Adventure Company offers guided treks through pristine forests (in showshoes or on foot, depending on conditions) to view the full moon. You can also embrace the profound darkness on a new moon tour by Tahoe Showshoe Tours, which affords unparalleled views of the constellations.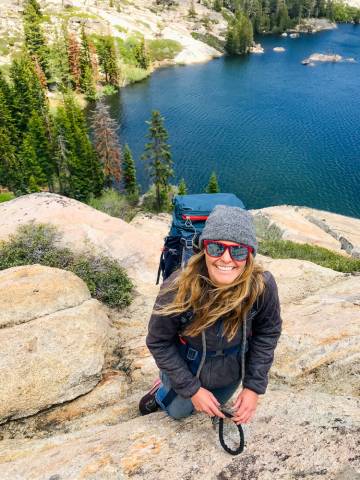 7) Experience Olympic Fever
In 1960, the Winter Olympics in Palisades Tahoe (formerly Squaw Valley) put Lake Tahoe on the map. Visit the Olympic Museum in Palisades Tahoe and browse the fascinating history via a unique collection of memorabilia and interactive exhibits.
8) Shop a Ski Resort Village
At the base of the Heavenly Mountain Resort Gondola, you'll find more than 40 trendy shops alongside restaurants, live music, a movie theater, ice skating rink, mini golf course and live theater.
9) Check Out the Nightlife
There's never a dull moment when it comes to South Lake Tahoe by night. Choose from shows featuring world-class headliners, a bit of casino action or a night out dancing at a local club (or two!).
10) Eat Like a Foodie
South Lake Tahoe has your epicurean needs covered — from a hearty breakfast in a family-style cafe, to lunch on a deck overlooking the lake, to a pull-out-the-stops dinner with cocktails, international wine selections, steak and seafood.
11) Visit a Castle
Vikingsholm in Emerald Bay was built in the 1860s, but it could pass for an ancient castle. Meander the grounds to unlock this grand home's secrets. Considered a fine example of Scandinavian architecture, Vikingsholm is open for summer tours.
12) Hit the Trail
A spectacular hike is just around every bend here in South Lake Tahoe. Literally thousands of trails, from easy undulating strolls to supremely challenging climbs, reflect the grandeur of the Sierra Nevadas and the centerpiece of the ancient lake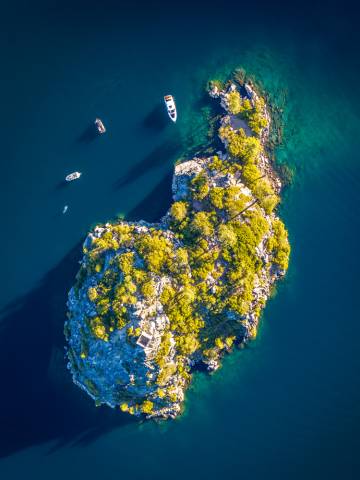 13) Act Like a Local
Take some time out for a leisurely amble and soak in the serenity of South Lake Tahoe. Breathe deep, and let Tahoe's golden sandy beaches, towering mountain peaks, clean alpine air and unparalleled vistas be your reward.
14) Take in a Concert
Summer in Tahoe heralds the highly anticipated concert season. From the epic summer concert series at Harvey's outdoor arena to a plethora of free community-style music events on the beach, there's music for every taste and style.
15) Try Your Luck
Dozens of casinos in Lake Tahoe tempt visitors to try their hand at games like blackjack, poker, roulette and slots. In South Lake Tahoe, check out the biggies — Harrah's, Hard Rock, Harvey's and Bally's.
16) Hit the Beach
Grab the family and take a dip in the lake's pristine waters or stretch out on the golden sandy shores at Meeks Bay, Emerald Bay or Zephyr Cove. Kiva Beach is dog-friendly (be sure to bring a leash).
17) Take a Helicopter Tour
Board a helicopter and take in dramatic views of Tahoe's pristine wilderness on an aerial tour. Itineraries vary, but invariably include Fallen Leaf Lake, Cascade Lake, Emerald Bay, the Desolation Wilderness and more.
18) Visit a Historic Site
Drive or bike from South Lake Tahoe to the Tallac Historic site near Emerald Bay. Here in the 1800s, the state's rich and famous escaped to their summer retreats. This 74-acre site features the archaeological remnants of Tallac, and the estates of Pope, Baldwin and Valhalla.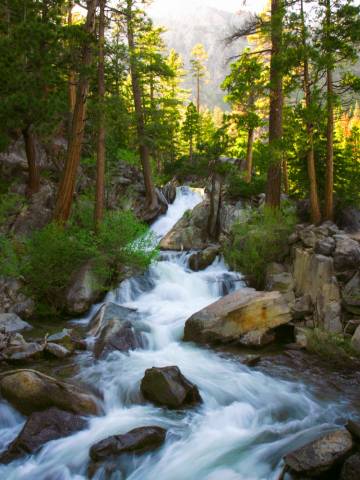 19) Check Out the Visitor Center
Learn all about the area's natural, recreational and cultural experiences at Explore Tahoe, with its indoor and outdoor interactive exhibits. Located in the Heavenly Village, the center's interpretive programs highlight conservation.
20) Climb, Zip and Tube
Ride the gondola up to the top of Heavenly Ski Resort and check out action-packed family activities like a kids and "hotshot" zipline, climbing wall and summer tubing run at Adventure Peak Play Area. Be sure to call for operating dates and hours, which are dependent on weather.
21) Golf a World-Class Course
South Lake Tahoe is renowned for its gorgeous alpine golf courses, catering to all budgets. Choose from a myriad of world-class luxury resorts, as well as many challenging local courses.
22) Take a Cruise
Several boat tours can take you all around the lake, but nothing beats a cruise on gorgeous Emerald Bay on a luxury yacht! Tour at sunset, gaze into the clear deep and sip champagne surrounded by sparkling water.
23) Search for Waterfalls
An epic snowmelt means epic spring waterfall viewing in South Lake Tahoe. Check out Eagle Falls on a beginner-level trail that ends in jaw-dropping views of cascading falls from 60 and 90 feet.
24) Take a Field Trip to Virginia City
Just an hour from South Lake Tahoe, Virginia City, Nevada, is an old western town lost in time. Birthplace to Mark Twain, Virginia City was made even more famous by a silver-mining boom in the 1800s. Today, this "ghost town" offers a glimpse into Nevada's romantic past.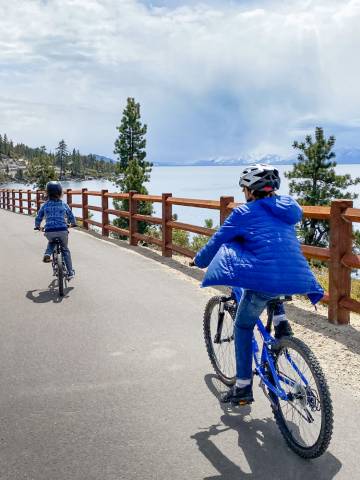 25) Take a Virtual Train Ride
Take a jaunt to Nevada's capital, Carson City, just 20 miles from South Tahoe. Here, the Nevada State Railroad Museum is not to be missed. You'll learn all about the completion of the Transcontinental Railroad, view scale models and vintage telegraphs, and ride a 1926 motor car.
26) Take a Dip in a Hot Spring
A half-hour from South Tahoe, the historic 1862 David Wally's Hot Springs Resort offers natural hot springs set in the mountains of Genoa, Nevada. Soak up the rustic vibe at this mountain lodge, which provides five pools ranging from 98 to 104 degrees. Other area springs include Brockway, Sierra Hot Springs, Carson Hot Springs and Steamboat Hot Springs in Reno.
27) Take a Lap
Around the lake, that is. You'll drive or bike 72 miles along the way, taking in some of the planet's most breathtaking scenery. You can do it in a day, but be sure to build in lots of extra time for photo stops.
28) Shop with the Kids
Duck into one of South Tahoe's independent toy shops for a special souvenir. Tahoe Toys & Treasures offers science-based toys, alongside traditional toys, crafts, books and activities for kids. Then stop in at Rocket Fizz Soda Pop & Candy Shop for an old-fashioned treat among the thousands of varieties of soda and sweets.
29) Dive in the Lake
Scuba dive, that is. Emerald Bay was designated in 2018 the first underwater state park in California. Look for sunken treasure here, or at least the remains of small boats wrecked in these crystal clear waters.
30) Go to Church
Open in summer, Lake Tahoe's quaint St. Francis of the Mountains boasts a unique rustic architectural beauty. Built in 1923, you'll find this little gem tucked among the aspens toward Camp Richardson on Fallen Leaf Road.
Be sure to check out our exclusive list of long-stay rentals by clicking the link below, or give us a call at 1-(530)-208-5001. We'll be glad to help you find the perfect monthly rental for your season in South Lake Tahoe!