Your Lakeland Village Vacation Rental Experts
A Lakeland Village Vacation Rental Manager You Can Trust
The Easy Path Isn't Always the Right Path
Your on-site property manager may feel like the obvious and convenient choice. But at RnR Vacation Rentals, we believe your investment deserves better. In addition to our personal owner relationships, great home care, competitive management fees and the extra amenities we include, we know what it takes to maximize the earning potential for your Lakeland Village home. We ensure you receive more income, the highest nightly rates, and the most nights booked possible.
At RnR Vacation Rentals, we are the very best local partner to manage your vacation home at Lakeland Village. But don't take our word for it, please take a minute to hear from your neighbor (or future neighbor) — Catherine Tirey at Lakeland Village #506.
Lakeland Village Homeowner Testimonial - Catherine Tirey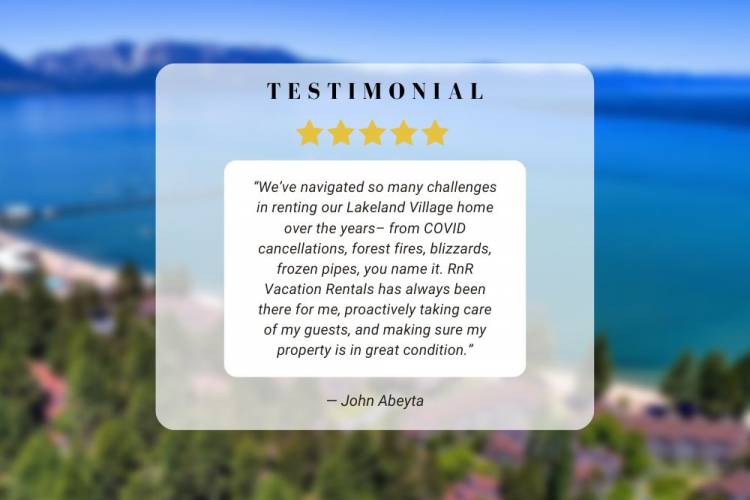 We Know that Choosing a Property Manager Can be Complicated
Trusting your family vacation home to a property management company is a complicated decision: Is there a sophisticated local company I can trust?  Will they take care of my home the way I want? Will they make sure we have good guests staying at our home? Are they worth the price? 
Hiring a professional management company to manage your vacation rental is more important now than ever. What used to be a fun hobby for a homeowner is now a minefield of time-consuming challenges: from navigating complicated technology and an abundance of listing sites and ensuring that your prices are maximized every single night, to City and County ordinance and permit requirements, tax schedules, cleaning nightmares, bad guest reviews and late night phone calls. 
At RnR Vacation Rentals, we are locally owned and operated. Other property managers at Lakeland Village have come and gone. But after 10 years, we are still managing our first Lakeland Village unit. In fact, our first homeowner did so well generating revenue from his 2 BR/Loft unit, that he bought another, 4-bedroom Lakeland Village home. Over the years, we have generated over $675,000 in revenue for John.
We Offer the Finest Property Management Services for Lakeland Village Rentals
As you are making your decision on which property manager to choose, ask these questions:
Will my unit be marketed individually, or in a pool with other units that may not have quality upgrades?
Will my unit be available on the highest volume sites and with optimized pricing?
How will you make sure we have good guests in our home?
Who responds to guest calls in the middle of the night?
Who will answer my guests' online reviews?
Who will be my housekeeper, and will they be the same each time?
How will damages be reported and repaired?
Do you supply the sheets and towels at no charge?
Time and time again, we hear the same concerns from homeowners that have chosen a different property manager; "They didn't report this was missing". "We didn't know this was damaged or needed replacing". "We can't believe how they consider this clean!" "We've already received 2 citations, and we can't afford to host another bad guest."
Give us a call at 855-99-TAHOE so we can help you maximize your revenue, make sure you have good guests in your home, and take the hassle out of vacation renting your home.