10 Reasons You'll Love Visiting South Lake Tahoe This Spring
Disconnect To Reconnect On A Wonderful South Lake Tahoe Spring Vacation
If South Lake Tahoe isn't on your Spring vacation itinerary yet, then this post is sure to change that FAST! Read on to discover our top 10 reasons why you'll love visiting South Lake Tahoe this Spring!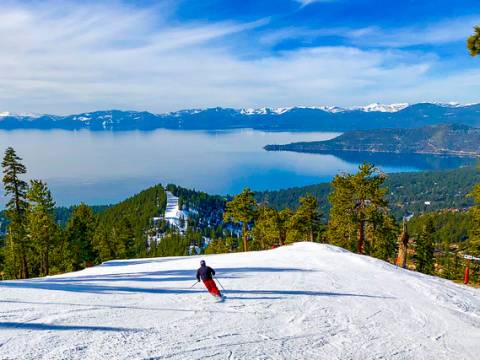 1. Spring Skiing 
At some of the region's larger resorts, the ski season is expected to last through April. Be prepared to have the entire mountain to yourself most of the day, returning "home" in the afternoon to wrap up any lingering work duties. Check out our favorite Tahoe ski resorts for your Spring skiing adventures!
2. Waterfalls 
Springtime waterfalls offer spectacular sights for the whole family. Read about the top 5 waterfalls in South Lake Tahoe to visit during a quick trip or an extended stay. 
3. Family Time 
South Lake Tahoe is one of the very best places for family connections. From mountaintops to beaches, there is so much your crew can do to enjoy the spectacular natural beauty right outside your door.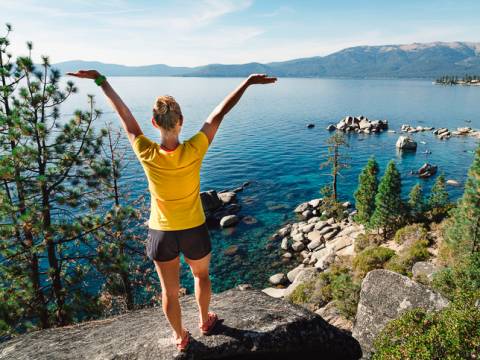 4. Gourmet Dining 
South Lake Tahoe offers an incredible array of restaurants, from fine dining to farm-to-fork. Remote workers can sign off in time for happy hour, followed by an unforgettable dining excursion. 
5. Adrenaline Rushes 
From rock climbing to downhill mountain biking, South Lake Tahoe offers plenty of heart-racing options. If you are not an adrenaline junkie, take the family on a cable car ride up to the top of Heavenly to enjoy delicious food and stunning views. 
6. Take A Hike 
Whether it is an uphill trek or a flat jaunt around the lake, spring and summer are ideal for hikers of all skill levels. Make sure you time it right to catch the sunrise or the sunset.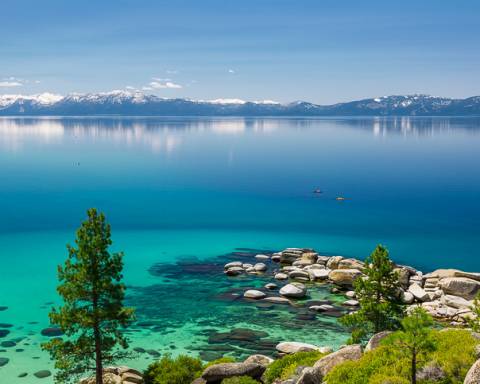 7. Serenity Now 
Tahoe is revered for its beauty, especially the way the mountains reflect off the stunning blue water of the lake. The combination is purely magical. You're invited to stay awhile and soak up the serenity by booking a short vacation or longer, extended stay. 
8. A Fresh Take 
One of the best aspects of an extended stay in South Lake Tahoe is spending several weeks breathing that fresh mountain air. If you hail from a large metropolitan area, the difference can be startling. One deep cleansing breath and you will see. 
9. The Deep Blue 
Scientists believe that Lake Tahoe was formed more than 2 million years ago. The fresh, visibly turquoise-hued water is remarkably clean and clear. Even from your work window that calming color will get you through the day.
10. Live Like A Local 
South Lake Tahoe still holds that small-town charm. Vacationers notice how people here still smile, say hello, and make small talk. Again, big-city visitors will especially notice the difference during an extended stay in such a friendly environment. 
Okay, so now that you've gone through the list and are adamently convinced that South Lake Tahoe needs to be your spring vacation destination, you'll be needing a place to stay during your visit. Fortunately, we have an extensive list of great vacation homes for every group size to enjoy a comfortable stay in South Lake Tahoe. Check them out below and book your perfect stay today!