Our Favorite Pet-Friendly Hang Outs In South Lake Tahoe
Find Out Where To Take Your Furry Friends On Your Next South Lake Tahoe Vacation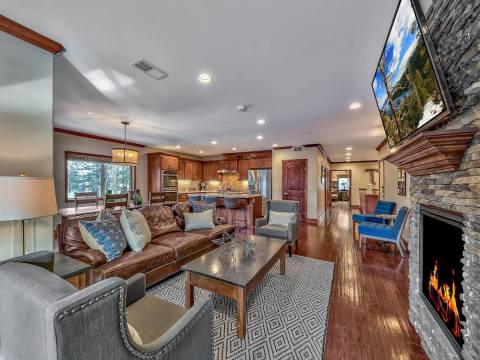 Home Sweet Home
A dog-friendly vacation rental used to be the exception, but RnR makes it the rule. Because, hey, dogs rule! Currently we have no fewer than 30 dog-friendly homes within our portfolio because our owners know that families are incomplete without you know who.
Once you've locked in your dog-friendly stay, the rest is easy. The entire Tahoe Basin is like a giant dog park for humans. And many of the beaches and trails allow your four-legged wonder to come along.
A well-mannered, leashed dog is welcome on just about all public lands around Tahoe. So feel free to bring your good boy (or good girl) along when visiting Desolation Wilderness, Lake Tahoe Basin Management Unit lands, El Dorado National Forest or Lake Tahoe National Forest. Just a few caveats: Bring a six-foot leash, waste bags and proper tags for your pet; don't allow your pet to disturb the flora and fauna; and be mindful of other hikers, campers and dogs.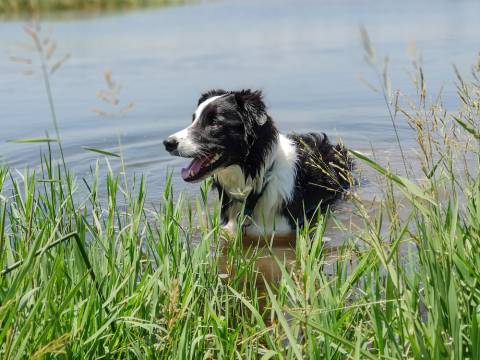 Dog-Friendly Day Trips
Just across the road from Kiva Beach are miles of trails around a deep blue, alpine lake. It's an easy hike with huge payoffs rewards, including a chance to take a brisk dip with your pup. It can get crowded in the summer, so don't expect much peace and quiet.
This doggie paradise creates an instant meet-up zone for your pal. It's an off-leash, fully fenced dog park tucked away in the Bijou Community Park (1201 Al Tahoe Blvd.). There are both small and large enclosures, plus a trick dog area complete with an agility course. In the summer the enclosures are typically dirt, but the social interaction is so worth a little post-play grooming.Home sweet home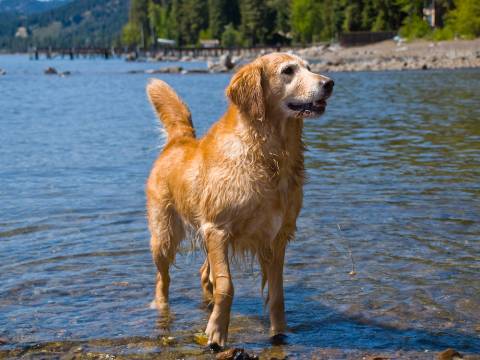 Dog-Friendly Beaches
If you're visiting Tahoe in the summer, you're probably interested in dog-friendly beaches. Here is a list of the most accommodating:
A locals' favorite on Highway 89 between the Tallac Historic Sites and Taylor Creek (Rainbow Trail), Kiva offers two sides (east and west) to allow plenty of beach to roam (depending on the level of water). The west side is set back further from the water, offering sandy beach space, but does back against Baldwin Beach, which is not dog-friendly.  If the lake is high enough, the East side of the beach can have a minimal sandy area, leaving only cobblestones.
Dogs are permitted off leash here but must be under strict voice control at all times. Your furry friend is only allowed in the dog water park section near the entrance to the park (on the east end). South Lake Tahoe's oldest beach facility, Regan offers great views of the lake. The water is shallow in this part of the lake and is a perfect option for smaller dogs.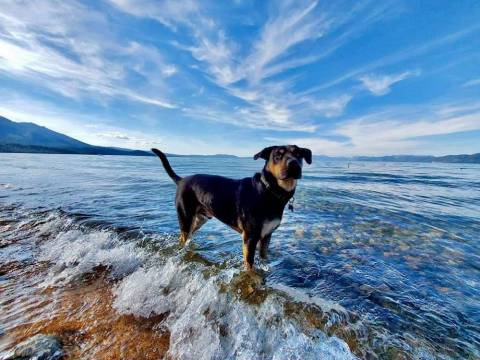 It's about a mile walk from the free parking lot on Kahle Drive to reach the dog-friendly side of this sandy paradise, or you can pay to park and cut the walk down to five minutes. To find the dog-friendly section of this long stretch of beach, head to the southern end and follow the sign pointing to beach access to the left. Nevada offers unbeatable views and a lot of space for dogs to splash around in the refreshing lake. The beach is sandy and includes a bench to sit on and enjoy the sunset.
One of the best non-rocky beaches on the east side of South Tahoe, this is a popular summer spot for locals and tourists alike. Although dogs are not allowed on the popular south end of the beach, the northside is a dog's dream. There are large rocks and boulders to jump off into the calm, crystal-clear waters — and dog paddlers love to play fetch or just buzz around the cove.
Let's face it, bringing your pet along on vacation can sometimes be stressful. But at RnR, Dogs Rule! Click the link below to browse our selection of wonderful pet-friendly vacation rentals in South Lake Tahoe.