Our 5 Favorite Places For Viewing Fall Colors In South Lake Tahoe
See Mother Nature's Kaleidoscope of Beauty and Color During Fall at South Lake Tahoe
California might not come immediately to mind as a locale for viewing the changing leaves of fall. The autumn tradition of New England is well known, but California's Sierra Nevada mountains offer an otherworldly experience all around Lake Tahoe in fall. Here at the largest alpine lake in North America, autumn brings a vivid show of golden aspens against the backdrop of Tahoe's shimmering blue water and grand evergreens.
Lake Tahoe's white-barked aspen trees turn their leaves to bright yellow-gold, orange and red, accenting the dramatic landscape of dark-green evergreens, rugged steel-gray rocky outcrops, wispy clouds and azure skies. Aspen groves draw thousands of visitors each fall to witness this dazzling display.
Each aspen grove includes one or more aspen clones. Because they are genetically related, the trees of a particular clone will change color all at once. Autumn provides the moment when the locations of various Aspen clones are in evidence. With the onset of fall and its accompanying cooler temperatures and shorter days, the trees receive less direct sunlight. Chlorophyll in the leaves breaks down and brings on intense yellow and orange pigments.
To lucky onlookers, this complex scientific phenomenon of the natural world is just plain gorgeous. During his journey to Tahoe during the Gold Rush, Mark Twain declared Lake Tahoe to be the "fairest picture the whole world affords" — and never is the area more vibrant and alive than in fall, when the aspens put on their fiery show. In some ways, this makes fall the prime time to experience the Sierra Nevadas at their peak. Surrounded by this rugged range, Lake Tahoe offers a multitude of ways to explore its multicolored paradise.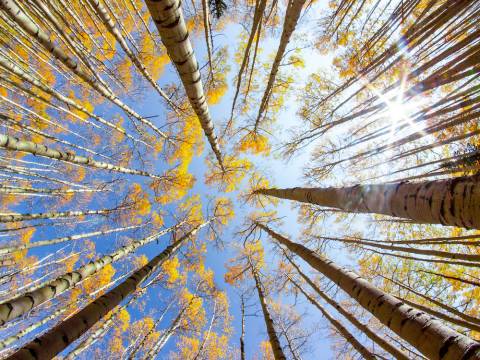 RnR's 5 Favorite Places For Viewing Fall Colors at Lake Tahoe
1. Hope Valley
Located in Alpine County, just a 30-minute drive from South Lake Tahoe, Hope Valley offers myriad hiking trails and several routes highlighting the aspen trees. This highly recommended excursion delights with an explosion of color in the fall. The Alpine County Chamber of Commerce offers a map called Autumn in Alpine County, featuring several locales in the county for enjoying the Tahoe fall colors.
2. Markleeville
Next door to Hope Valley lies the small town of Markleeville. Here, aspens line local meandering creek beds to create a fantastical fall scene. Between walks amongst the colorful trees, visit some of the town's many restaurants and bars, boutiques and antique shops. Top your visit off with a reviving plunge in beautiful Grover Hot Springs and take in the stunning valley scenery.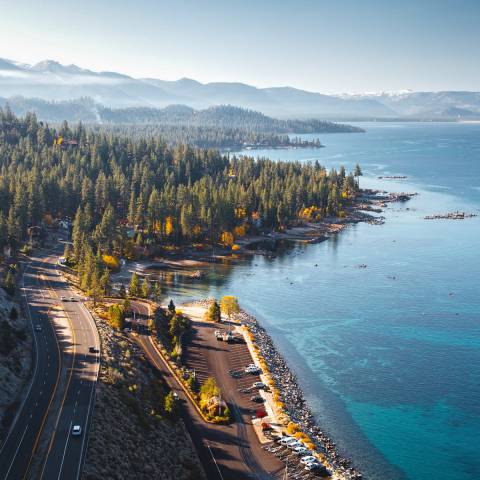 3. Ebbetts Pass
Take a leisurely drive along Highway 4, to the south of Hope Valley to a national scenic byway. This is home to thousands of aspen trees, which put on a vibrant annual display that's jaw-dropping to behold. Focus your search along the East Carson River and Kinney Creek. Even from the car, the trees are visible, but for a more immersive experience, you may want to stop for a picnic and a leisurely hike. You won't find a better place to take some grand autumn family portraits!
4. Luther Pass
Along Highway 89, between Hope Valley and the town of Meyers, dense aspen groves beckon from Luther Pass. This is a favorite vantage point for professional photographers as many will stop on this route alongside the tourists to snap dramatic photos. Just ahead of the pass is the Big Meadow Trailhead, where you can hike part of the Tahoe Rim Trail, adorned with creeks, evergreens like fir and pine —  and, of course, lots of aspens showing off their fall foliage colors. 
5. Fallen Leaf Lake
Fallen Leaf Lake is one of the most astounding locations to see fall colors in South Lake Tahoe. This aptly named alpine lake on the South Shore near Mount Tallac stuns with its combination of exquisite colors and crystal-clear waters. Continue on the road leading down to the lake for expansive views of the aspens. Stop at the General Store at Fallen Leaf Lake for boat and kayak rentals, as well as food for a picnic lunch.
For your upcoming excursion to see South Lake Tahoe fall colors, let our professionals at RnR arrange the perfect extended stay for you and your family. Lake Tahoe is gorgeous any time of year, but consider treating yourself to a unique experience — autumn in Tahoe, and let the fiery drama of its sweeping gold aspen groves fill you with equally golden memories.
Click the link below to browse our luxury RnR vacation homes, condos and cabins, and begin your perfect South Lake Tahoe fall getaway!