9 Lake Tahoe Biking Events You Need to Check Out
Discover the Most Exciting Cycling Events to See and Participate in at Lake Tahoe
Lake Tahoe is a renowned California biking destination, and for good reason. The roads are smooth, the mountain bike trails are thrilling, and the backdrop for rides is simply magnificent. Even if you don't bike often, it's more than worth hopping back on two for while during your stay in Lake Tahoe.
If you are a cyclist or a cycling fan, then you'll be delighted to know that Lake Tahoe hosts many exciting bike races and festivals. From quick local festivals to professional biking tours, the range of biking events in Lake Tahoe is extraordinary. Each cycling event offers its own blend of excitement for spectators and participants alike.
If catching one of these events sounds like a good time to you, then read on to discover the top biking events in Lake Tahoe.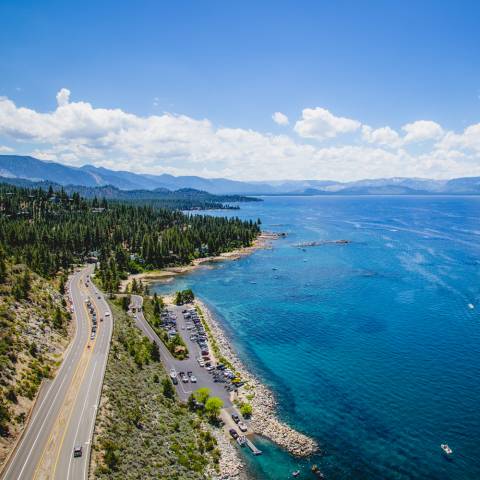 America's Most Beautiful Bike Ride and Tour de Tahoe
The Leukemia and Lymphoma Society (LLS) presents an annual premier cycling event every June. For 30 years, this event has attracted cyclists of all ages and experience levels, and it features breathtaking views of Lake Tahoe along two possible routes.
One circumnavigates gorgeous Lake Tahoe in Nevada and California along a 72-mile route. The other, for more seasoned and conditioned cyclists, includes a 100-mile route that adds an additional 600 vertical feet of elevation. The event funds groundbreaking blood cancer treatments and care and has raised more than $94 million with 24,000 participating cyclists since 1994.
Register for next year's ride here.
Additionally, the former sponsor of Tour de Tahoe, Bike the West, recently transferred ownership of its iconic Bike Big Blue ride to LLS. Beginning and ending at the Hard Rock Hotel and Casino in South Lake Tahoe, the course includes plenty of climbs and drops in elevation amidst fabulous views such as Spooner Junction and Emerald Bay.
On hold this year, the annual fully supported September ride will recommence in 2024. It's not too early to register, though, as the event traditionally sells out early every year. Find details here.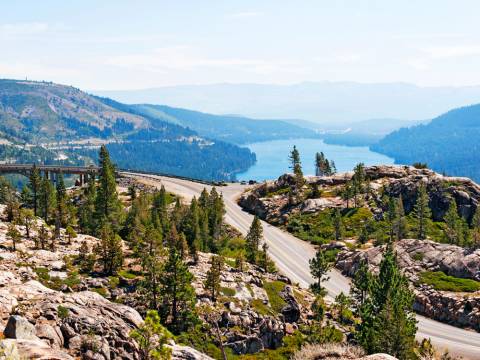 Death Ride: Tour of California Alps
Up for the challenge of three Sierra Nevada mountain passes, 129 miles and 15,000 feet of elevation? The second week of July marks this annual test of fitness, strength and endurance. The course takes in both sides of Monitor Pass, both sides of Ebbetts Pass and both sides of the Pacific Grade, finishing at Turtle Rock Park, north of Markleeville.
This event sells out early. For more information, click here.
Donner Lake Triathlon
You'll need running shoes and swim goggles as well as a bike for this Olympic-level annual event, held in late July. With courses for kids and Olympic-wannabes alike, the competition features a sprint triathlon, Olympic triathlon, half triathlon and aquabike triathlon. The two-day event includes a swim in Donner Lake, a bike ride along Old Highway 40 and a run to the finish.
More information is available here.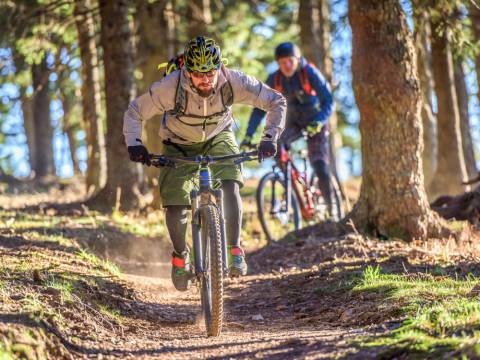 Truckee Dirt Fondo Cycling
Get down and dirty each June at an off-road gravel biking festival, the Truckee Dirt Fondo Cycling. This three-day event features competition in 26-, 58-, or 67-mile courses in the Tahoe National Forest, alongside music, food trucks and family-oriented entertainment.
Check here for more information.
Lake Tahoe Mountain Bike Race
Calling all adventure cyclists to the Highlands Community Center in Tahoe City! Competitive mountain biking is just one of many choices every June during Adventure Sports Week Tahoe, a 10-day event highlighting human-powered sports, demos, community events, as well as bike races and triathlons.
Check here for more.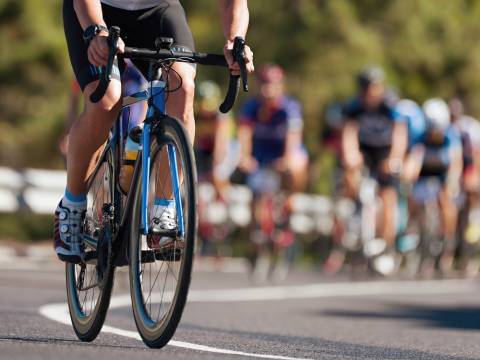 Sierra to the Sea
Challenge yourself with this 8-day, 420-mile California bicycle and camping tour. Held in June, this trek begins in Lake Tahoe, crosses the Sierra Nevada and runs all the way to the Pacific Coast and San Francisco's Golden Gate Bridge. Experienced riders average around 60 miles per day, but less strenuous route options are also available.
The tour celebrated its 33rd birthday this year. Learn more here.
Tahoe Mountain Bike Festival
For two full days of cycling and community fun, check out the action at Tahoe Paradise Park in Meyers. The annual event in June celebrating Tahoe trails is presented by Divided Sky and the Tahoe Area Mountain Biking Association, which builds, maintains and advocates for multi-use trails.
Register for various demos and trail rides, depending on your level of ability and experience. Check the website for year-round action, including volunteer opportunities combining trail rides with important trail maintenance.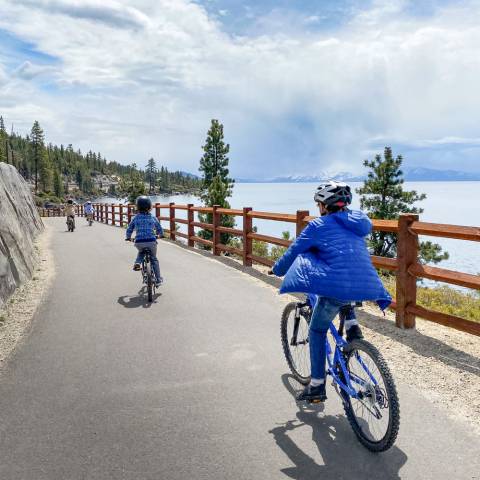 Tahoe Bike Month
Bicycling events planned for every June throughout the Lake Tahoe Basin include a friendly competition for most rides recorded, complete with weekly prizes and drawings. No matter how you like to ride, you can be a part of the fun. The kickoff begins with an annual bike path cleanup in South Lake Tahoe with lots of goodies and swag awarded to all participants. Various competitions, teams and events are always part of the action.
Learn more and sign up here.
Leadville Race Series Tahoe Trail and Northstar Enduro
The Leadville series in July offers a two-loop, 50 kilometer course that's a favorite due to the fabulous scenery viewed from all directions from Northstar California. Cycle alone or ride the course as a tandem team every July in this high-profile mountain-town-focused race.
The fifth stop of California's Enduro series features a two-day, six-stage course that combines Northstar Bike Park trails. Scheduled for August and described as steep, loose and rocky, this course is for serious riders only, looking to test their endurance on extremely challenging terrain.
For more info on big competitive mountain-biking opportunities near you, check here.
Whether you come to watch or participate in these exciting Tahoe bike events, you'll need a great place to stay. RnR Vacation Rentals has managed South Lake Tahoe's finest vacation rentals for over a decade. Our luxury rental homes, condos, and cabins provide a exceptional Lake Tahoe experience that you won't soon forget.
If you are a cyclist visiting Tahoe, then you'll love staying in one of our vacation rentals with a hot tub. They are the perfect homes away from home to rest and relax after a long day on your bike. Check them out by clicking the button below!